Give Your Children A Connection To The Jewish Community
Whether it be our Kindergarten – 5th Grade Youth Groups or our iServe Program for teenagers, Ramat Shalom Beth Israel is committed to giving your children a meaningful, lasting connection to Judaism.
We have crafted fun Youth Groups for Kindergarten through 5th grade students. Escape rooms, bowling, movies, pizza parties and ice skating, combined with holiday celebrations and mitzvah projects make for memorable Jewish experiences that give our kids the opportunity to connect to community while having a blast.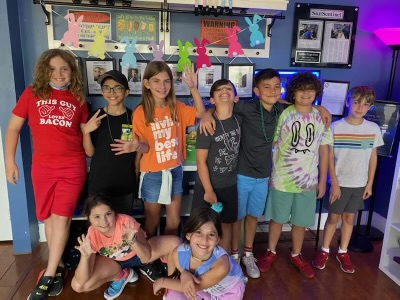 Your teen will participate in hands-on, meaningful service projects that will fulfill the Florida mandated requirement for high school graduation. iServe community service hours are accepted by
all local schools.
iServe, Ramat Shalom Beth Israel's teen program, focuses on the Jewish concepts of G'milut Hasadim (deeds of loving kindness) and Tikun Olam (actions to repair the world). The goal of iServe is twofold: (1) to educate teens about the needs in their community; and (2) to give them the resources & the opportunity to go out and heal the world. Throughout the year, iServe teens will contemplate, plan and engage in various meaningful, hands-on community service projects that will strengthen their Jewish identity and reinforce their Jewish values. Some highlights include: a challah bake for the food-insecure of Broward County; two beach clean-ups, bingo night with U.S. Veterans; a 6,000 lbs. food challenge for the Harvest Drive; and so much more! Service hours are available for iServe activities. iServe is open to all 8th-12th graders. At the end of 10th grade, iServe students are eligible for Confirmation, a meaningful to way to celebrate our teens commitment to Jewish life. All of our students who continue in our program through High School get to take part in our High School Graduation Service.
Teen Empowerment and Character Development
Your teen will learn ways to confront real world problems and become part of the solution to these problems. In doing so, they will become young adults of strong character.
Your teen will join with like-minded peers to live and practice Jewish values and grow into a true mensch.